Yesterday I made ice cream and it was a success. Surprisingly! It's a lot easier to make than what I thought. It's pretty much just like making custard and freezing it. I made hokey pokey ice cream for nostalgic reasons. It's a bit of a New Zealand favourite.
To make it I grabbed a basic vanilla ice cream recipe online and used the old faithful Edmonds Cookbook for the hokey pokey. Since I don't have an ice cream maker I googled around for the how-to and found this guys blog post - david lebovitz. I've come across him before and definitely sounds like a bit of an ice cream expert. He makes it sound pretty easy, and turns out it is!
Recipes are below...(I added the hokey pokey about half way through freezing the ice cream)
Basic Vanilla Ice-Cream
(adapted from taste)
Ingredients
300ml thick cream
300ml milk
2 tsp vanilla bean extract
6 egg yolks
175g caster sugar
Method
Place the cream, milk and 2 tsp vanilla in a saucepan. Bring to the boil, then turn off the heat and set aside for 10 minutes to infuse.
Place the egg yolks and sugar in the bowl. Beat with an electric hand mixer until pale.
Carefully pour the milk over, then return to a clean saucepan.
Cook over low heat, stirring, for about five minutes until it is slightly thickened and coats the back of a wooden spoon.
(Keep the heat very low as you don't want to scrabble the egg yolks)
(This simple custard forms the basis of a classic ice-cream recipe.)
Set aside to cool, then refrigerate for 30 minutes.
Place custard in a plastic container in the freezer until frozen at the edges (about an hour). Remove from freezer. Beat with an electric beater. Re-freeze. Repeat this process two more times.
Leave until completely frozen, for best results leave over night.
(Alternatively, churn in an ice-cream machine according to the manufacturer's directions.)
Makes 1 Litre
Hokey Pokey
Ingredients
5 Tbsp of white sugar
2 Tbsp of golden syrup
1 tsp baking soda
Method
Line a baking tray with baking paper. Set aside.
Heat the golden syrup and sugar in a small saucepan over a medium heat.
Melt mixture and stir occasionally. Bring to the boil for 3 minutes -- make sure you stir continuously so the syrup doesn't burn.
Take the pot off the stove and stir in the baking soda. The mixture will froth up and become pale. Use a spatula to scrape and pour the mixture onto the baking paper.
Allow the honeycomb to set for 30 minutes.
Once set, wrap the honey comb loosely in parchment paper and use a rolling pin to break it into small pieces.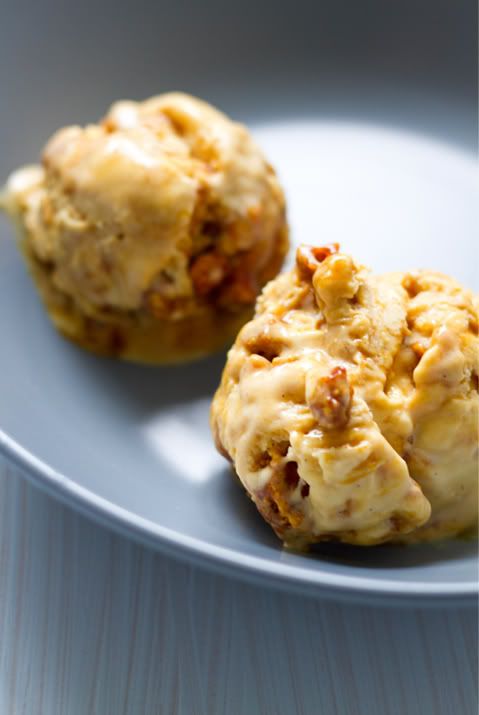 I have to say that home made ice cream surely is a whole lot better than store bought. Delicious! If you've never tried hokey pokey before then have a go at this recipe. Next time I'm going to make maple and walnut!